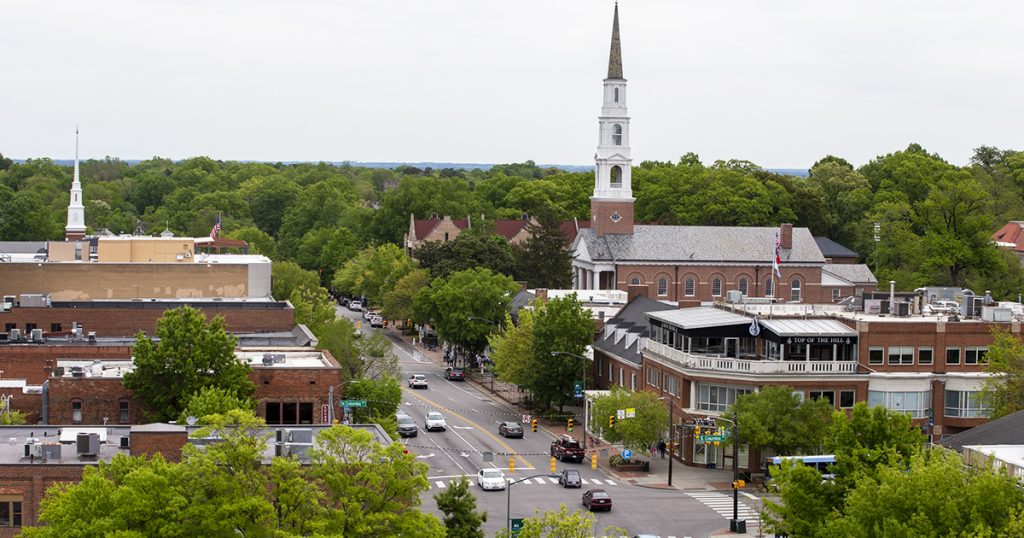 (Photo via The Town of Chapel Hill)
Our Region: Greater Chapel Hill is a two-town, three-county region situated in the center of North Carolina, equidistant to the mountains and the beach, and nestled in the rolling, wooded Piedmont. Our Chamber serves this region, which includes the Town of Chapel Hill, the Town of Carrboro, southern Orange County, northern Chatham County, and southwest Durham County. ​
Infrastructure: Our region forms the western edge of the Research Triangle, and the northern rim of the future Chatham Park, offering diverse business and industry opportunities; excellent transportation corridors with two main interstates (I-40 and I-85); and convenient access to an international airport (RDU), a rail system, and several top tier universities (UNC-Chapel Hill, NCCU, Duke, and NC State).
Features: Known as the southern part of heaven, with small town charm and big city cultural and athletic events, our region features one of the best public school systems in the country, world class health care facilities, and access to one of the best workforces in America (Chapel Hill is the 2nd most educated city in the nation according to the US Census Bureau).
The Center: The heart of our region is found in the side-by-side towns of Chapel Hill and Carrboro - home to the nation's first public university and a community filled with brilliant minds, award-winning restaurants, innovative businesses, outstanding public schools, and a vibrant music and performing arts scene. This community is considered one of the best college towns in America and is known to "blend liberal philosophy and Southern culture in a way that borders on the utopian."
Questions: No matter who you are or where you're from, you're welcome here. Learn more about our region and why it is a great place for you and your loved ones to live, learn, work, play, and start or grow a business. For questions, please contact Chamber staff at info@carolinachamber.org or (919) 967-7075.