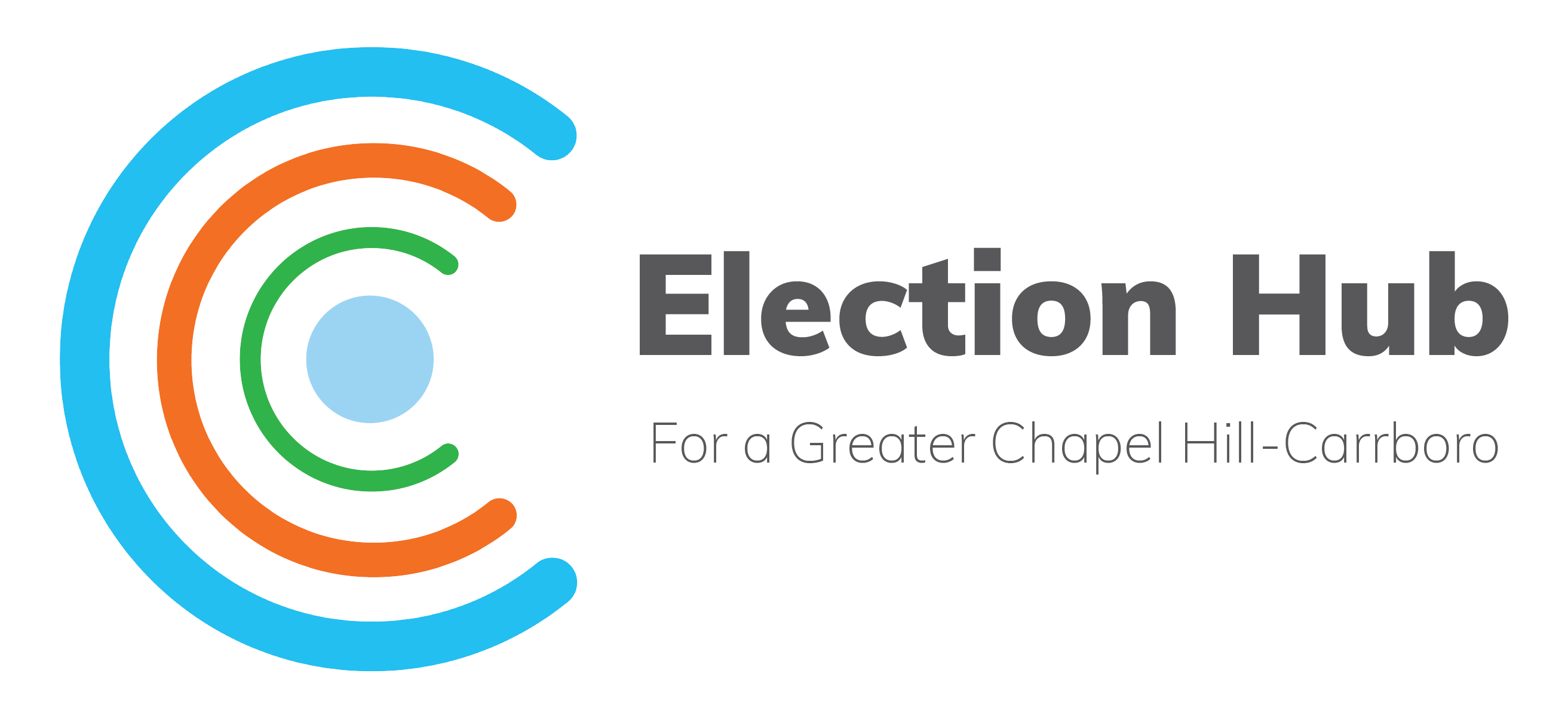 The Chamber's Election Hub is your one-stop shop for information about who and what is on your ballot and where and when to vote. 
---
Election Updates 
2023 Election: Stay tuned for updates on the 2023 elections and, in the meantime, click here to see The Chamber's policy platform and click here to see who is running.
Review the local election media coverage at chapelboro.com/election-coverage
When: Election Day is Tuesday, November 7, 2023. Below are key dates for this election cycle:
Oct. 19, 2023: One-stop, in-person early voting period begins
Oct. 31, 2023: Deadline for civilians to submit an absentee ballot request form
Nov. 4, 2023: One-stop, in-person early voting period ends at 3 p.m.
Nov. 7, 2023: Election Day (6:30am-7:30pm) and civilian absentee ballot return deadline (5:00pm)
Where & How: Visit the NC State Board of Elections for quick search engines to find your polling place (Election Day Polling Place Search). There are three ways to vote in North Carolina and in NC:
Vote by mail. There is no special circumstance or reason needed to vote by mail in NC, but you must have requested a ballot before the 5 p.m. Tuesday, October 31, 2023 deadline.
Vote in-person during early voting. This will take place from October 19, 2023 - November 4, 2023 with multiple voting site options and times as well as same-day voter registration.
Vote in-person on Election Day, which is Tuesday, November 7, 2023.
---
About The Chamber's Election Engagement  
Chamber Activation: The Chamber engages in Primary and General Elections to ensure Chamber members and friends have the information they need about the candidates and the process before they cast their votes.
Annually, The Chamber activates the Election Hub, which is a one-stop shop to share timely election information, and hosts Coffee with the Candidates (part of the Critical Issues Series).
When relevant, The Chamber conducts candidate surveys to reveal candidate positions on issues that matter to the local business community. Past candidate surveys: Orange County Commissioners 2020, 2018; Chapel Hill Town Council 2021, 2019; 2017; and Carrboro Town Council 2021, 2019, and 2017.
Contact: For questions about the Chamber's election activation, contact Chamber President and CEO Aaron Nelson. For additional election information, contact your County Board of Elections (Orange County, Chatham County, and Durham County) and/or the NC State Board of Elections.
---