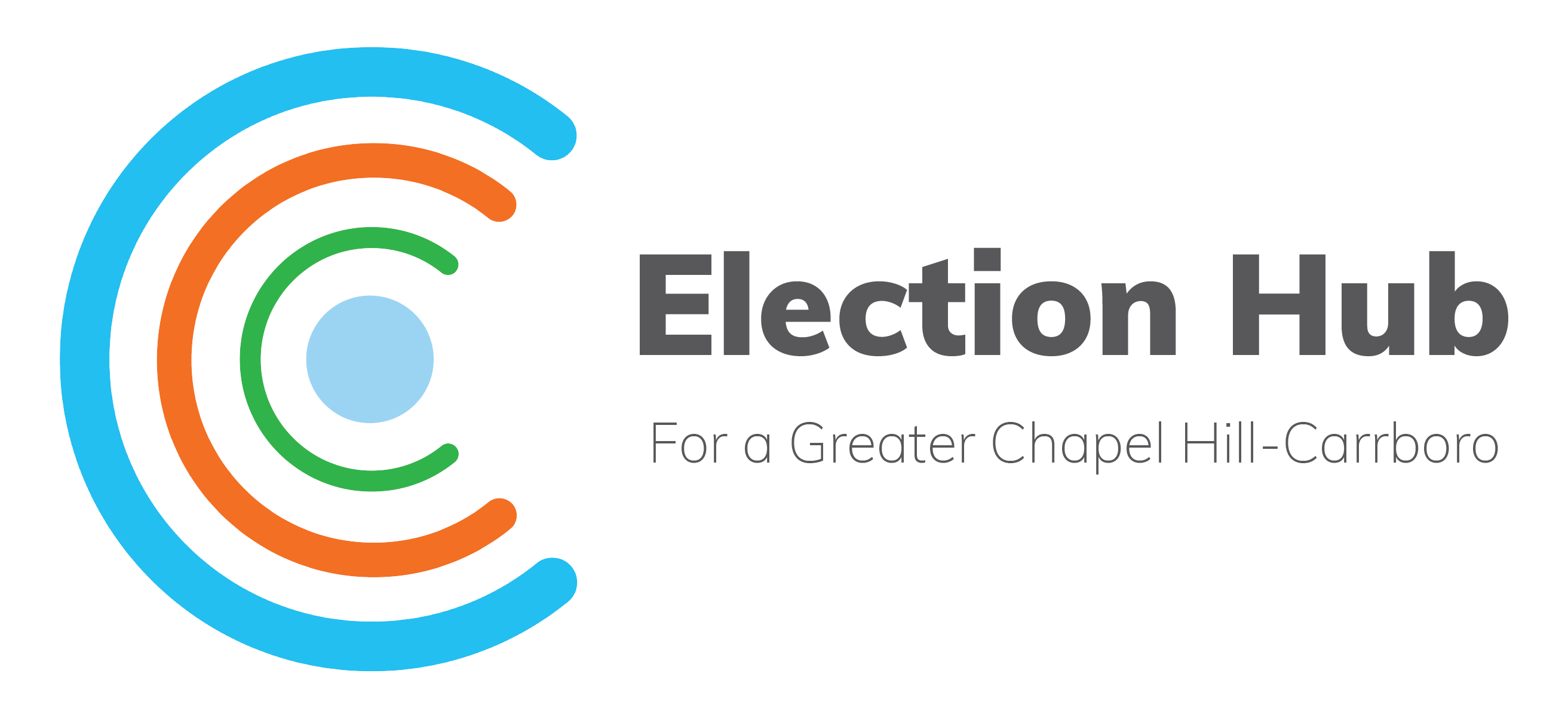 The Chamber's Election Hub is your one-stop shop for information about who and what is on your ballot and where and when to vote. 
---
Primary Election Results
*Note: This page will be updated for the Tuesday, November 8, 2022 General Election soon!
Primary Election Results: The statewide Primary Election was on May 17, 2022. Scroll down to review the races The Chamber tracked. You may also review the election results and the Chapelboro.com coverage of the local races.
Chamber Statement: "We would like to extend our hearty congratulations to the primary election winners and share our appreciation of everyone who campaigned to serve our community. It takes a great deal of time, money, and heart to run for office, and we sincerely appreciate and admire your willingness to serve," said Katie Loovis, Vice President for External Affairs, The Chamber For a Greater Chapel Hill-Carrboro.
---
Meet the Primary Election Candidates  

Overview: Federal, state, and county-level primary races unfolded in May 2022. The Chamber tracked 11 races with 39 candidates. Review The Chamber's primary election day announcement about the races and candidates and scroll down for a list of candidates who filed and links to many of their campaign webpages.
Federal
U.S. House of Representatives (District 4, 1 seat, 10 candidates): Clay Aiken, Nida Allam, Crystal Cavalier, Valerie P. Foushee, Courtney Geels, Matt Grooms, Robert Thomas, Stephen J. Valentine, Ashley Ward, and Richard L. Watkins
State
Local
*Orange County Board of Commissioners (4 seats, 4 candidates): Sally Greene (At-Large; watch), Jamezetta R. Bedford (District 1, watch), Anna Richards (District 1, unexpired, watch), and Earl McKee (District 2)
Orange County Board of Education (3 seats, 8 candidates): Penny Carter King, Bethni Lee, Garen McClure, Anne Purcell, Andre Richmond, Sarah Smylie, Ashley Wheeler, and Will Atherton
*Orange County Clerk of Court (1 seat, 1 candidate): Mark Kleinschmidt (watch)
*Orange County Sheriff (1 seat, 1 candidate): Charles Blackwood (watch)
*Orange County Register of Deeds (1 seat, 2 candidates): Mark H. Chilton (watch) and Penny Rich (watch)
*Carrboro Town Council (special election, 1 seat, 2 candidates): Aja Kelleher (watch) and Eliazar Posada (watch)
*Indicates the races for which candidates were invited to participate in The Candidates and Elected Official Forum, which was on Thursday, April 28, 2022. The video links are to the candidates introductory messages during the forum.
---
About the Statewide Primary Election 

What: Primary Elections are often punctuated with little interest and low turnout, but in Orange County, NC, where many more Democrats are registered than Republicans, the winner of the spring Primary Election almost always wins the General Election in November for local offices. Primaries matter in Orange County. Learn more about the upcoming Primary Election.
When: The 2022 statewide Primary Election Day was Tuesday, May 17, 2022. One-stop, in-person early voting, which includes same day voter registration, began on Thursday, April 28, 2022 and concluded on Saturday, May 14, 2022.
Who: Review you sample ballot through the NC Board of Election voter search tool and scroll down for more information on the candidates.
Where: Visit the NC State Board of Elections for quick search engines to find your polling place (Election Day Polling Place Search). Also, Orange County residents may access this resource for Orange County One Stop Early Voting locations, dates, and times.
How: There are three ways to vote in North Carolina: 1) by mail and the there is no special circumstance or reason needed to vote by mail in NC (but you must have requested a ballot before the May 10, 2022 deadline); 2) in-person early voting (which was underway from April 28, 2022 - May 14, 2022 with multiple site options and times and same-day voter registration); and 3) in-person on Election Day, which is May 17, 2022. To vote in North Carolina, one must register. Registering to vote in NC is easy and can be done: 1) online through the DMV, 2) by mail, or 3) in-person at early voting sites.
Redistricting: After ever decennial census, the NC General Assembly is required by law to draw the districts from which public officials are elected and do so in a manner that adjusts for population change and maintains equal representation, i.e., redistricting. Due to legal challenges, the NC 2022 Primary Election was postponed from March to May, 2022. Review the redistricting timeline, court rulings, and maps.
The Chamber Election Engagement: The Chamber engages in primary and general elections to ensure Chamber members and friends have the information they need about the candidates and the process before they cast their votes. Annually, The Chamber: 1) activates the Election Hub, which is a one-stop shop to share timely election information, 2) conducts candidate surveys to reveal candidate positions on issues that matter to the local business community, and 3) hosts The Candidates and Elected Officials Forum as part of the Critical Issues Series. In addition, from 2017-2020, The Chamber coordinated the (un)forum to share candidate videos and connect candidates with Chamber members. Past candidate surveys: Orange County Commissioners 2020, 2018; Chapel Hill Town Council 2021, 2019; 2017; and Carrboro Town Council 2021, 2019, and 2017. Past (un)forums: 2020, 2019, 2018, and 2017.
Contact: For questions about the Chamber's election activation, contact Chamber Vice President for External Affairs, Katie Loovis. For additional election information, contact your County Board of Elections (Orange County, Chatham County, and Durham County) and/or the NC State Board of Elections.
---
The Election Hub is curated by Katie Loovis, Vice President for External Affairs, The Chamber For a Greater Chapel Hill-Carrboro. Contact Katie with questions about elections, government affairs, public policy, or advocacy.