---
2023 Leadership Chapel Hill-Carrboro is Underway!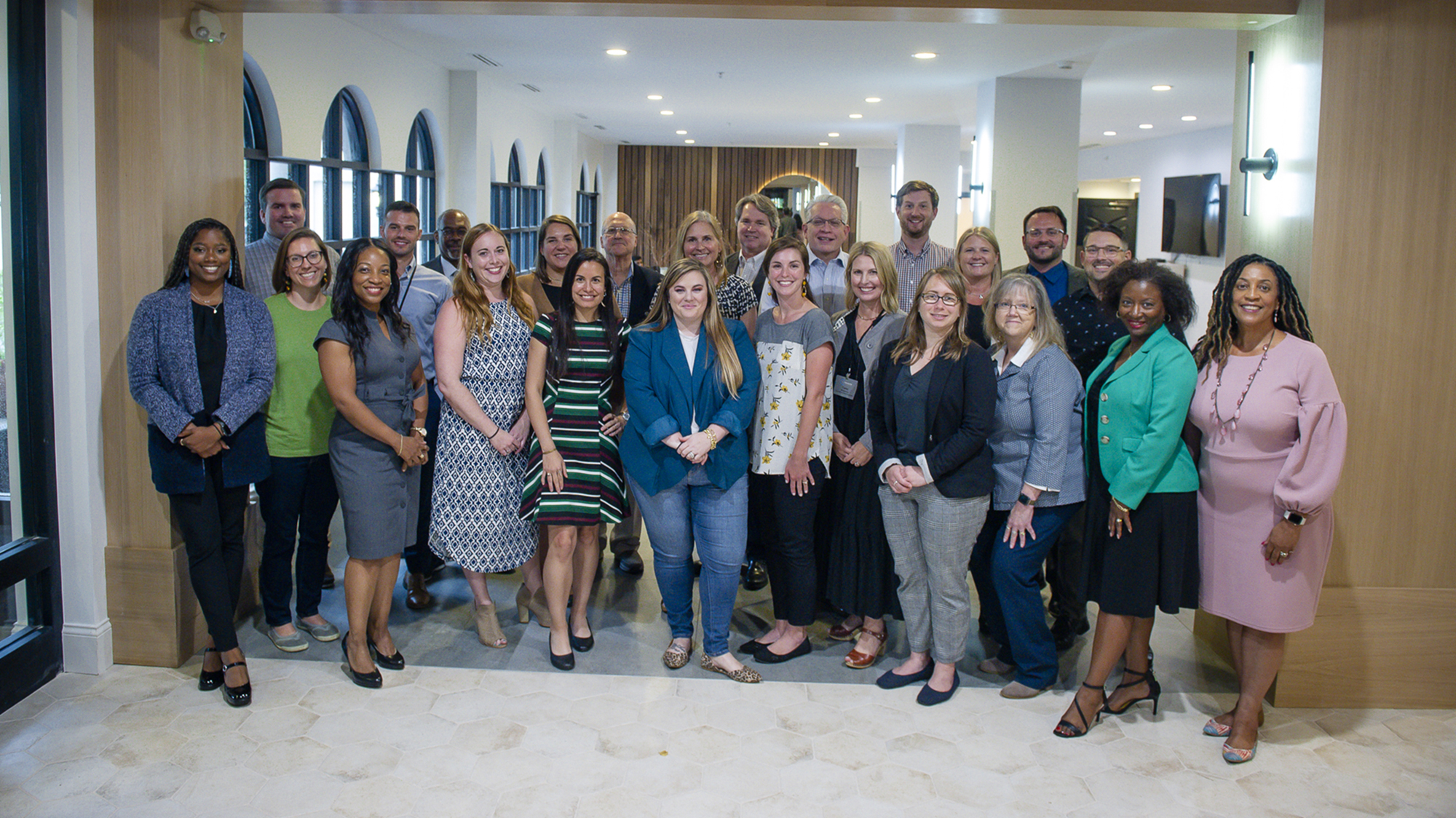 Leadership Class of 2022 at The Siena Hotel in Chapel Hill. Photo by Trevor Holman Photography.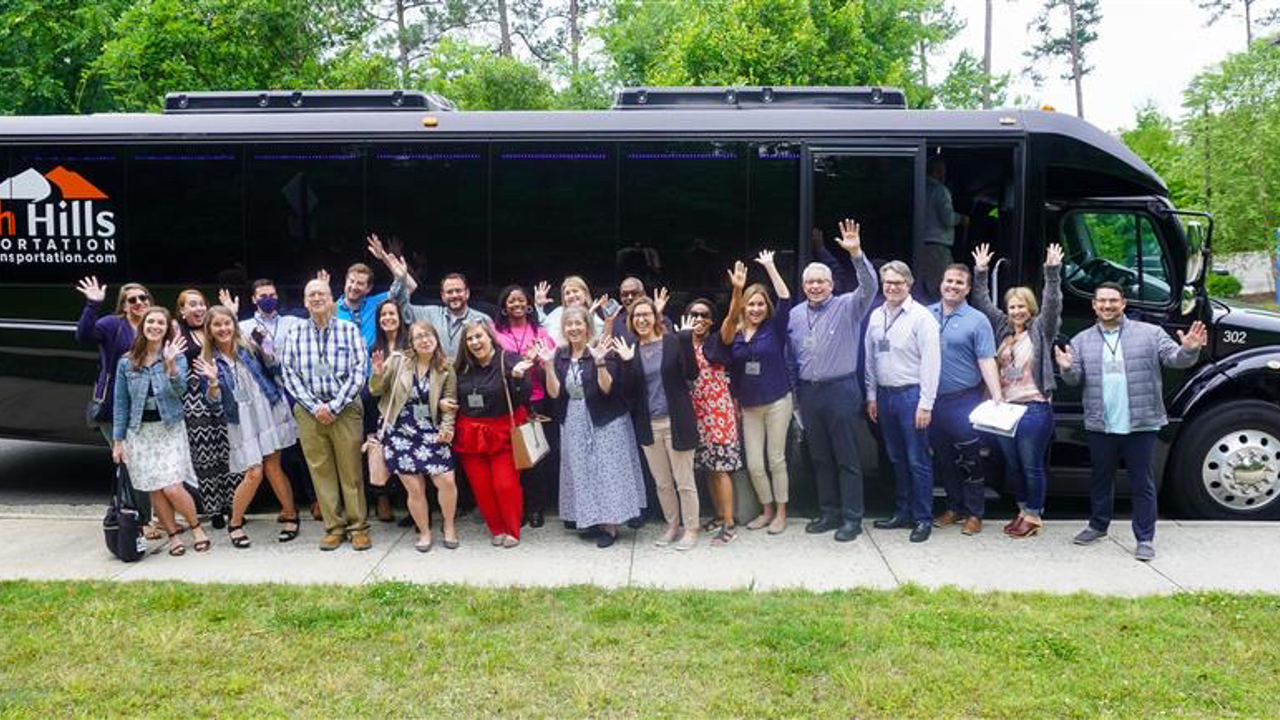 Leadership Class of 2022 during the guided bus tour through Greater Chapel Hill-Carrboro.
About Leadership Chapel Hill-Carrboro

What: Leadership Chapel Hill-Carrboro (Leadership) is an extensive program designed to inform, develop, connect, and engage committed and emerging leaders in Greater Chapel Hill-Carrboro.
Why: Leadership participants broaden their understanding of issues and opportunities facing the region, refine their leadership skills, develop lasting relationships, and deepen their influence through ongoing networking and service opportunities.
How: Leadership is a cohort-based learning experience operating since 1985. The program features nearly a dozen sessions over five months that combine presentations, tours, experiential learning activities, and facilitated dialogue to help participants better understand key issues in the region related but not limited to government, education, housing, workforce and economic development, and health and human services.
More: To learn more about Leadership 2023, watch the video and review the presentation from the Virtual Information Session on 3/22/2023. Also, listen to recent Leadership Graduates share reflections on the program (2022 and n.d.).
"Earn your leadership every day." (Michael Jordan)
"Leadership and learning are indispensable to each other." (John F. Kennedy)
"The most important thing in good leadership is truly caring. The best leaders in any profession care about the people they lead, and the people who are being led know when the caring is genuine and when it's faked or not there at all." (Dean Smith)
Requirements & Schedule

Requirements: To successfully complete the program, earn a certificate, and become a Leadership Fellow, participants must do three things:
Attend all sessions (up to two excused absences permitted with completion of make-up assignments).
Complete the Community Passport (an individual checklist of community activities, such as taking public transportation, attending a public meeting, participating in a patrol ride-along, and hosting a dinner prepared with local ingredients).
Complete Small Miracles (a team-based project through which the cohort collectively selects an area nonprofit organization and implements a fundraising plan to meet relevant organizational needs. The Leadership Class of 2018 collectively raised more than $13,000 for a local nonprofit called Extraordinary Ventures and a scholarship for a participant for the subsequent Leadership class).
Schedule: Leadership 2023 includes ten session over five months in the summer usually on the 2nd and 4th Thursday of each month from 8am-5pm. The following is the 2023 schedule, but topics and times are subject to change.
Thursday, May 4, 2023 from 5:00pm-7:30pm: Session 1 - Kickoff evening reception (Chapel Hill)
Thursday, May 11, 2023 from 8am-5pm: Session 2 - Experiential Learning at the Triangle Training Session (Chatham County)
Thursday, May 25, 2023 from 8am-5pm: Session 3 - History, Geography, and Governance, including a bus tour of the region (Chapel Hill)
Thursday, June 8, 2023 from 8am-5pm: Session 4 - Health and Human Services (Chapel Hill)
Thursday, June 22, 2023 from 8am-5pm: Session 5 – Tourism, Arts, and the Environment (Hillsborough)
Thursday, July 13, 2023 from 8am-5pm: Session 6 – Town and Gown (Chapel Hill)
Thursday, July 27, 2023 from 8am-5pm: Session 7 – Education and Workforce Development (Hillsborough)
Thursday, Aug 10, 2023 from 8am-5pm: Session 8 – Economic and Community Development (Carrboro)
Thursday, Aug 24, 2023 from 8am-5pm: Session 9 – Safety, Equity, and Civility and Private Graduation (Chapel Hill)
Thursday, Sept. 14, 2023 from 8am-5pm: Session 10 - State of the Community Report and Conference and Public Graduation (Chapel Hill)
"Leaders don't create followers, they create more leaders." (Tom Peters)
"Never doubt that a small group of thoughtful, committed citizens can change the world; indeed, it's the only thing that ever has." (Margaret Mead)
"The key to successful leadership today is influence, not authority." (Kenneth Blanchard)
Registration

Fee: The 2023 program fee is $1,750 (member) and $1,950 (non-member). This fee covers programming, session materials, and meals.
Discounts: Chamber Major Investors are entitled to discounts. Community Champions and Community Investors receive 50% off; Community Builders and Community Leaders receive 25% off.
Scholarships: A limited number of partial scholarships are available. To be considered for scholarship funding, please complete the Partial Scholarship Application Form and contact McKenzie Steagall with any questions or concerns.
Registration: Register now for Leadership 2023. Those who enroll commit to the participation and payment requirements and, given the time commitment, must verify the full support of their employers. .
Learn More about Leadership Chapel Hill-Carrboro
Background: Since 1985, Leadership Chapel Hill-Carrboro has offered an annual series of cutting-edge sessions to current and emerging regional leaders. Leadership supports the exploration of multiple perspectives in a safe and respectful environment. Participants build their personal and professional networks as they turn knowledge into action and leverage resources for the benefit of the community and its people. Leadership is managed by The Chamber's Partnership for a Sustainable Community and is designed to develop a continual pool of leadership talent for Greater Chapel Hill-Carrboro.
Sponsor: Become a sponsor of Leadership (opportunities available from $800-$5,000). For questions about sponsorship, contact Chamber Vice President for Membership, Rebecca Dickenson.
Contact: For questions about the Leadership journey, content, participation, logistics, fees, and scholarships, contact McKenzie Reinhold.
"Management is efficiency in climbing the ladder of success; leadership determines whether the ladder is leaning against the right wall." (Stephen Covey)
"If your actions inspire others to dream more, learn more, do more and become more, you are a leader." (John Quincy Adams)
"People buy into the leader before they buy into the vision."  (John Maxwell)