Local Testing & Vaccine Information
Coronavirus Testing Information
COVID-19 testing hosted by the Orange County Health Department is done with no out-of-pocket cost (insurance will be billed). Click here to learn more. 
Testing is available every weekday Monday through Friday from 9am to 5pm at Whitted Human Services Center at 300 W. Tryon St., Hillsborough NC 27278. Pre-registration is encouraged and may be done online. Select Orange County when registering: https://unityphm.com/campaigns/starmed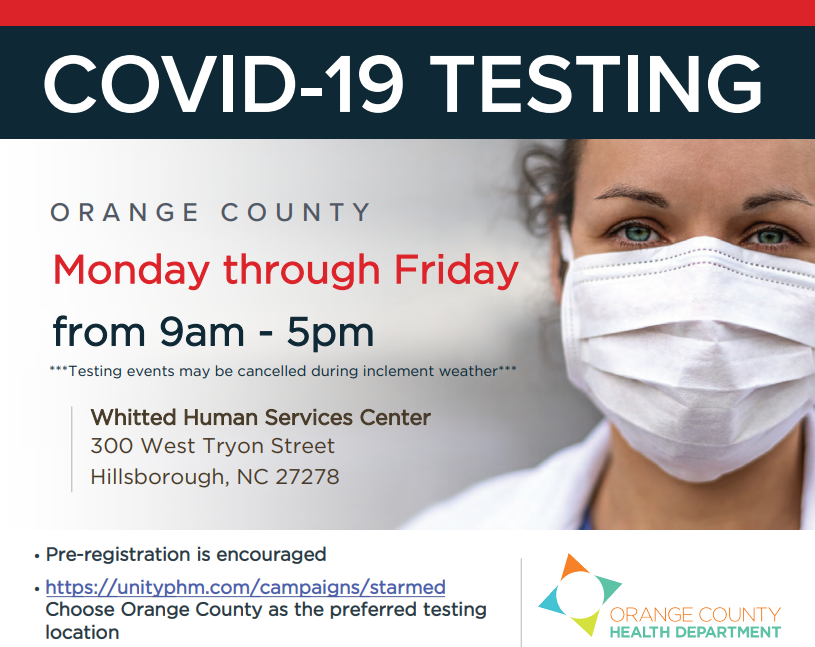 At this time, the Health Department has flu vaccines for individuals 6 month of age and older. Please call 919-245-2400 to make an immunization appointment and get your flu shot!
There is no out-of-pocket charge for flu vaccines administered by the Orange County Health Department. Uninsured Orange County residents will receive a free flu vaccine until the Health Department runs out of available flu shots. The Health Department will bill insurance for individuals with health insurance.
Call 919-245-2400 to schedule your flu vaccine appointment. Select Option 3 for their Chapel Hill clinic or Option 4 for their Hillsborough clinic. Learn more here. 
Tarheel Town Pharmacy is currently offering workplace flu shot clinics with no up-front out-of-pocket charge for those with health insurance.  Call 919-240-7827 or email ttpharmacy17@gmail.com to schedule a clinic at your office location.
Coronavirus Vaccine Information
What you need to know about COVID-19 vaccination planning in the United States.