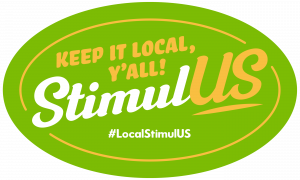 What: Now more than ever, local businesses need our support. #LocalStimulUS is a new campaign to encourage our community to buy local as residents receive COVID-19 stimulus checks and navigate these trying times.
Why: Every time we make a purchase at a local business, we support local jobs and help preserve the local character of our community. In fact, 67 cents of every dollar we spend at a local business stays in our community. When we spend it here, we keep it here. So keep it local, y'all!
Find a Local Business: Many local businesses are still operating but with safety adjustments, including virtual classes, online ordering, and delivery, take-out, or curbside services. Find a local business now: 
How: While designed for the Greater Chapel Hill-Carrboro community, the #LocalStimulUS campaign is flexible for use by communities everywhere. The campaign includes a logo, tagline "Keep it local, y'all!," hashtags #LocalStimulUS and #WeBuyLocal, and websites, LocalStimulUS.org and WeBuyLocal.org. Access the suite of editable logos and more information at LocalStimulUS.org.
About: This campaign was designed by The Splinter Group, ignited by The Chamber For a Greater Chapel Hill-Carrboro, the Carrboro Business Alliance, and CarrboroUnited, and developed in partnership with the Town of Carrboro Economic Development; the Town of Chapel Hill Economic Development, Chapel Hill Downtown Partnership, and Launch Chapel Hill; Orange County Economic Development and Orange County Visitors Bureau; the Town of Hillsborough Economic Development and the Hillsborough Orange County Chamber of Commerce; the Chatham County Economic Development Corporation and the Chatham Chamber of Commerce; and the Small Business Technology and Development Center, serving Alamance, Chatham, Lee, Orange, and Person Counties.
Press Release: Read more about #LocalStimulUS.
Feature in Chapel Hill and Chatham Magazine e-blasts: