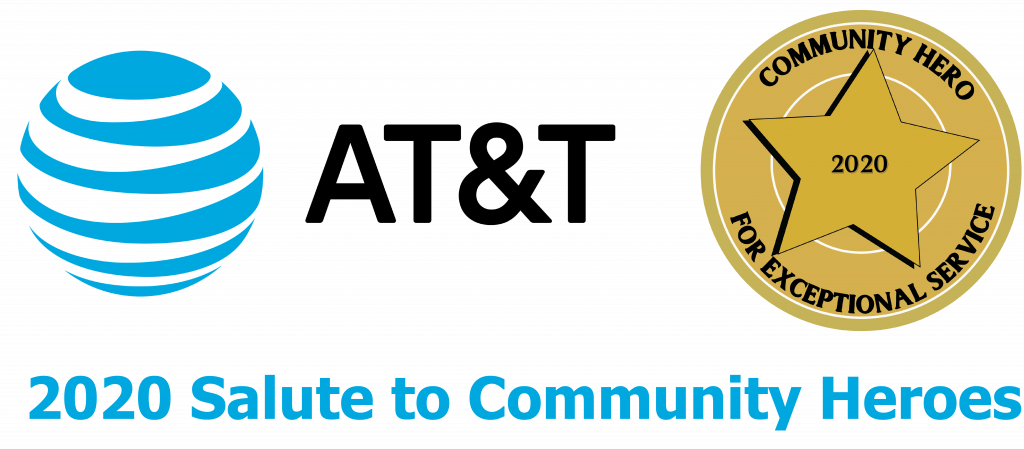 AT&T is proud to present The Chamber's 18th Annual Salute to Community Heroes
Salute honors the people who are committed to a thriving, healthy, and sustainable community. Our award winners have set a high bar with the achievements, dedication, and volunteerism that they have demonstrated.
Each day we will recognize by video - officers from Orange County; the towns of Carrboro, Chapel Hill, and Hillsborough; as well as the University of North Carolina at Chapel Hill and UNC Hospitals.
Follow along here and on The Chamber's social media pages. Share the videos and help us celebrate these community heroes!
Hillsborough Police Officer of the Year
Sgt. Chelenza has been with the Hillsborough Police Department since 2009, and has been a Sergeant since 2014. He has been serving as the Investigations Unit Supervisor for over a year. In that role he is responsible for both conducting investigations and coordinating investigations assigned to other investigators. He manages the on-call schedule and responds to significant events after hours. He is also responsible for managing property and evidence for the department.  
Sgt. Chelenza is a Criminal Justice General Instructor, holds his Advanced Law Enforcement Certificate (2016), and has received the following awards: HPD Fitness Recognition 2018 and 2019, 2017 Top Gun, 2014 DWI Enforcement Recognition, several town Innovation and Customer Service awards and numerous other letters of commendation. 
He has demonstrated repeatedly his commitment to excellence and service. When he stepped into his current role his took the initiative to learn and master multiple systems and processes that were new to him. He has consistently been a role model and mentor to younger officers and goes out of his way to help others.  Sgt. Chelenza is also very involved in our agency's commitment to community engagement. He frequently participates in evens and helps coordinate activities. He was recognized by the NC Special Olympics in 2015 and 2016 for his work help raising funds, which included coordinating a golf tournament. This past year he developed and led his investigations team in doing a series of presentations about fraud prevention to groups at our local senior center and he helped produce a video with tips to help people protect themselves from being the victim of breaking and entering to their vehicle. 
Chapel Hill Firefighter of the Year
Fire Equipment Operator Chip Aiken
Fire Equipment Operator (FEO) Chip Aiken began his service with the Chapel Hill Fire Department in February 2007 as a firefighter.  He was promoted to Master Firefighter in April 2009 and to FEO in January 2018.  His role and responsibilities as an FEO include leadership in maintaining the fire apparatus for which he is responsible in a response ready mode, insuring that his crew responds and arrives in a safe and timely manner to calls for service, being sure his crew has the water and other resources needed to mitigate an emergency, and stepping up to serve as a Company Officer in his Captain's absence.   
 His nomination for CHFD Firefighter of the Year, by one of his peers, included the following information:  
As part of a CHFD History project, Chip collaborated with others to restore our first CHFD fire truck, a 1916 Ford Model-T.  "Chip was required to use his personal knowledge and skills, manage a group, problem solve and apply intensive attention to detail to return the truck to a roadworthy state."  (The truck has been used in educational programs, parades and at other events.

 
Chip partnered with another employee to help establish the CHFD Love Fund, a cooperative venture that pays a tax free give to participating members upon their retirement from the fire service.  After the program was developed and running, Chip continues to serve as an administrator and leader for key communications regarding the fund.  Chip's commitment to the fund honors retiring members as they leave behind a life of service to the community and helps boost morale of current employees by acknowledging the value of their work.

 
 Says the peer who nominated Chip, 'I've always know Chip to be a hard worker who gets the job done because that's the only way he knows how to do it.  He is not a complainer and doesn't bring negativity to work with him.  It's not an exaggeration to say he's among the best firefighters you'll find.  He can ride any seat, has had a long involvement with our regional Urban Search and Rescue Team, and has extensive experience with operations in the County.  He doesn't advertise all these things, but he brings them to us every day and he is well deserved of this award.' 
Chapel Hill Police Officer of the Year
Officer Belcher has been employed by the town since September 6th, 2005, when he completed the Chapel Hill Police Academy and swore-in as an officer on January 20th, 2006. During his years of service, Officer Belcher has taken on numerous roles within the department, including specialized SCAT instructor, lead K-9 handler, K-9 instructor (nearing master instructor), Spanish translator and Taser instructor, which also makes him responsible for the department's Taser program.  
Officer Belcher's influence can be felt at all levels of the department. He works directly with the development of new recruits throughout the academy, regularly provides guidance to fellow officers in the field, is contacted by his supervisors to seek his opinion regarding incidents involving K-9 utilizations and works with administrators to shape policy decisions involving use-of-force situations. His extensive involvement within the department and engagement within the community throughout his career is not to receive recognition or angle for promotions, but because he genuinely cares. He cares about this community and he cares about his fellow officers.   
Officer Belcher is well-rounded and handles calls ranging from active disturbances to mental health crises with professionalism and care. He routinely engages in community outreach through K-9 demonstrations and presentations and has spent countless hours setting up and running training for the department's K-9 unit. Over the entirety of his career, he has been an officer that makes supervisors relieved when they hear him check on-scene and his peers know he can be relied on to make informed decisions during dynamic and rapidly evolving calls. He requires little supervision and communicates well with not only his peers but his supervisors. He regularly assists with shift level training and is actively involved in After Action Briefings.     
As soon as Officer Belcher gained eligibility for promotion, Supervisors and fellow officers began approaching him, advising him that he should put in for each promotion. Most recently, when informed that his K-9 partner Ace would need to be retired due to a degenerative medical condition, he was once again approached. His response was enlightening and enviable. Officer Belcher stated that, with the Chief's blessing, he'd like to be considered for another dog because, after thinking long and hard about the opportunity, he had decided he still wanted to be a handler. He said, 'I still enjoy it, I feel like I have more to learn and more to teach.'  
After nearly fifteen years of service, Officer Belcher is still engaged, still learning and still loves what he does. During these challenging times for law enforcement, it is refreshing to know officers are still invested in their communities, dedicated to the profession, and continue to strive to learn. And during these somewhat dark times for law enforcement, it is important that veteran officers like him are put in the forefront. He leads by example an example that, if followed, would ensure a bright future for law enforcement and an unbreakable bond with the communities we serve.   
Orange County Sheriff's Office Employee of the Year
Deputy David Funk is a trained and certified K-9 handler with the Orange County Sheriff's office; he also serves as the training coordinator for the unit. He holds multiple national certifications with the International Police Work Dog Association.  
After starting his law enforcement career with the Orange County Sheriff's Office, David left for a time to broaden his experience base. Returning to the Sheriff's Office in October 2018, he quickly assumed a leadership role within the three-team K-9 unit. He coordinates and oversees the extensive program of required, on-going training. K-9 handlers also have extensive on-call responsibilities and the program makes vast contributions to the service the Sheriff's Office provides to residents and visitors to the county.  
 Sheriff Blackwood conducted Deputy Funk's original background investigation. Blackwood said, "I was very impressed with David then. But after years of watching his daily effort, his dedication to his craft, and his ability to balance his work and family obligations, I am absolutely amazed." 
Orange Rural Firefighter of the Year
"Luke has been with Orange Rural Fire Department for over two years, and he is always eager to do what we ask of him. He is always on time and ready to work. He recently took over extra responsibilities when we had some employees unexpectedly leave. He has a great personality and is so friendly and warm when he is on all calls, whether medical or fire. We are fortunate to have Luke as an employee. "  - Orange Rural Fire Department
South Orange Rescue Member of the Year
Operations Captain Haley Amanda Davies
Haley Amanda Davies joined SORS in March, 2018. She served as an Emergency Medical Technician [EMT] and Operations Lieutenant for the EMS Division before becoming Operations Captain in 2019. In her current role, she is responsible for oversight and management of day-to-day functioning of a team of roughly 50 EMS volunteers [EMT's and Cadets].  
In 2018, Haley graduated summa cum laude from UNC Chapel Hill with her BA in Biology. Currently, she works in the Conlon Heart Development Lab at UNC School of Medicine, and as Clinical Support Technician in the Cardio-Thoracic Intensive Care Unit [Certified Nursing Assistant] at UNC Hospitals. On top of this, she is currently pursuing a Master's Degree in Physician Assistant Studies. 
 Haley successfully manages the additional work that impacts the EMS Division during COVID-19:  Ensuring that the EMS division has the necessary resources, Personal Protective equipment [PPE], necessary equipment, and near constant updates on medical and procedural guidance from local, state, and Federal agencies. The job of Operations Captain was hard enough before COVID-19, but Haley has admirably and successfully managed all of the additional pressures and responsibilities. 
 Haley is an all-around wonderful person who always displays a great attitude, she is a positive influence on her peers and a true role model for other members. She is passionate about what she does, always gives 100%, and is always willing to step up and 'do what needs doing' at any particular moment. Haley lives up to her favorite quote: 'Never underestimate the power of your actions. With one small gesture you can change a person's life.' 
UNC Public Safety Officer of the Year
Investigator Raymond Oliver
Investigator Raymond Oliver attended Virginia Commonwealth University (VCU) and graduated with his bachelor's degree in Criminal Justice in 2011. He started his law enforcement career with UNC PD. He was hired on January 7th 2012 and attended the Basic Law Enforcement Education and Training Course through Durham Technical College. Investigator Oliver started his service to UNC in the Patrol Division and was selected to be a bicycle officer in 2013 and assigned to the Community Response Unit. While on CRU he received his Law Enforcement Bicycle Education certification as a bicycle officer. In 2015 he was selected to move to the Criminal Investigations Division (CID) where he continues to serve and excel. During his time in CID, Inv.  Oliver attended education and training courses to become a member of the Internet Crimes Against Children Task Force. I am extremely proud of the work he continues to do related to the investigation of Child Pornography and Crimes against children. This work is very challenging but also rewarding when prosecutions are successful. 
Since being assigned to CID he has received his Advanced Law Enforcement Certification, became a RAD Instructor, Fair and Impartial Policing Instructor, a Blacklight Forensic Examiner, Cellebrite Forensic Examiner, obtained his Commercial Drone Pilot License and is a hostage negotiator. Inv. Oliver also oversees the departments Body Warn Camera Program. As you can gather, Investigator Oliver possesses many talents that help keep the campus of UNC Safe and the department operating effectively. 
 It is a pleasure and privilege to nominate Investigator Raymond Oliver for the UNC Public Safety Officer of the Year.  
Orange County Emergency Services Employee of the Year
Assistant Fire Marshal David Sykes
Orange County Emergency Services is proud to select David Sykes, Assistant Fire Marshal, as our employee of the year. David started his career with Orange County in 2009 having served for many years with Chapel Hill Fire Department as well as continuing his service in the volunteer fire departments. When David was hired, he was immediately thrust into managing the department as the previous fire marshal who hired him, retired. David has served this community for many years to include being fire chief at Orange Grove Fire Department and currently serves as a Captain with Orange Rural Fire Department. David is a tremendous asset to not only Orange County Emergency Services but to our residents and partner organizations. Without a doubt, he is one of the most dependable teammates we have in our organization. David carries a lot of the day to day inspection responsibilities and effectively spreads the message of fire safety thorough his inspections. He is well respected in the fire investigation field for his opinions and expertise for fire scene evaluations. He is always available to assist even when he is not "on call". Covid-19 has brought some challenges to the inspection program, but David has been a driving force to conduct inspections to help whittle down the list that once was growing more and more as time went on. David sincerely has been a glue to the Fire Marshal's Division. His contributions towards the work, the community and his teammates is exemplary to the model employee we all want working for us. As he winds down his career, it is our honor to recognize David Sykes as 2020 Orange County Emergency Services Employee of the Year.
Carrboro Firefighter of the Year
Driver/Operator Doug Yates
"Driver Yates excels at his current position. He is one of the best overall Driver/Operators on the department. As an officer you can rest assured that if he is driving for you that he has the knowledge and experience to complete tasks expected of a driver without direction or assistance. You never have to think about the tasks assigned to him, he is typically even a step ahead of your expectations. He is an excellent resource for those strange calls, and often assists his officer with mitigating the hazard. As an acting officer he brings more experience to the table than many of our ranked officers, myself included. Driver Yates has worked diligently with Driver/Mechanic Squires to reduce down times on apparatus and reduce the burden on the mechanic. He takes initiative to fix things whenever possible. Many on the department are satisfied with marking something out of service and sending an email, but he works to resolve the issue as quickly as possible. He is playing an integral role with the tanker process, providing valuable insight that few members of the department have. He has worked with new firefighters and relief drivers, reinforcing concepts that were learned in the academy and showing how things are done in the real world. The reality is that he has done many of these things for years, but mostly under the radar. He does not seek recognition for his actions. His intent is to make our department better and those within our care safer, not personal recognition that many are after. Driver Yates has been an outstanding employee for almost 20 years. I can think of no one more deserving of this recognition than Driver Yates." - Carrboro Fire Rescue Department
Carrboro Police Officer of the Year
It gives me great pleasure to announce that Police Officer II Steven Dixon has been selected as our Officer of the Year for 2020.  Police Officer II Steven Dixon began his law enforcement career in 2011 as a patrol officer with the Carrboro Police Department and currently serves in the Community Services Division. His current duties consist of planning, organizing, and conducting community events and directed patrols in response to community concerns with respect to traffic and quality of life complaints. Some of Officer Dixon's additional duties consist of submitting regular reports to the Governor's Highway Safety Program, representing CPD as a partner of the Safe Kids Coalition, and scheduling calibrations for departmental equipment. Officer Dixon assists members of CPD and frequently fills in to assist the Patrol Division when staffing needs arise. Officer Dixon is known for "thinking outside of the box" and continues to find ways to improve community relations. On April 16, 2020, Officer Dixon conducted a community parade in conjunction with other local first responders throughout the town of Carrboro. The event was a huge success and was covered by local media and inspired multiple successful similar events as CPD and the community adapted to the global pandemic. For his commitment to CPD and the community of Carrboro, we are proud to recognize Officer Dixon as the 2020 Carrboro Police Officer of the Year.  
UNC Hospitals Officer of the Year
Lieutenant William Mazurek
Lt. Mazurek has been employed with UNC Health since 2007 and in his current assignment as Investigations Lieutenant since 2012.  In his career at UNC Hospitals Police Lt. Mazurek, he has worked as a Security Officer, Police Officer, Shift Lieutenant, and Special Operations.  Before coming to UNC Hospitals Police, Lt. Mazurek also has a distinguished law enforcement career to include: Police Officer at Duke University and as a Deputy on Patrol and Sergeant of the Special Operations division at the Chatham County Sheriff's Office.   
Lt. Mazurek is a volunteer with the Sheep Dog Impact Assistance Team, and as recently as March 2020, went to Tennessee for three days to clean up after tornadoes damaged the area.  As a result, Lt. Mazurek received recognition from Sgt. Major Lance Nutt, founder of the Sheep Dog Impact Assistance Team.  Lt. Mazurek led the Sexual Assault Kit Initiative for the UNC Hospitals Police Department and was able to get sexual assault kits being held in evidence to the state crime lab for examination.  Lt. Mazurek, in 2012, received the Officer of the Quarter award from UNC Hospitals Police Department.   
On top of leading investigations and the numerous cases he has worked on, Lt. Mazurek made two arrests in embezzlements from the UNC Health Women's Hospital and the UNC Health Cary Wellness Center.  As a result of those arrests, Lt. Mazurek helped three other law enforcement agencies clear cases involving the same suspect, which lead to over 18 felony charges by those agencies.  Lt. Mazurek is the Department liaison for the UNC Health Controlled Substances Assessment (CSAT) program, a UNC Health multi-departmental program investigating drug diversions at UNC Health.  As such, Lt. Mazurek has personally obtained numerous confessions when conducting drug diversion interviews as part of the CSAT initiative.  Lt. Mazurek responds quickly to the need for the patrol shifts when additional personnel are needed to fill shifts or shift supervisors.  He also makes sure investigations are at an always-ready state when needed for investigative call-outs, active shooter events, or any other need that arises.  Lt. Mazurek also serves on the Board of Directors for the Chatham County Law Enforcement Association and has done so for over two years.  Lt. Mazurek is a dedicated team player and leader.  He is excited and more than willing to assist those in need.  He is always ready to lend a helping hand in any way, mentally or physically.  He has contributed significantly to the success and reputation of the UNC Hospitals Police Department over the years.  His character and work ethic are those of dedication, reliability, and consistency.   For those reasons we are thrilled to name Lt. Mazurek as UNC Hospitals Officer of the Year.